作为一名专业的甜品主厨,
您是否也在寻找,
能够施展自身才华的闪亮舞台?
如果您拥有将巧克力演绎到极致的本领,
那就切勿错过这一高手竞技的宝贵机会!
第6届Valrhona C3巧克力烘焙大师赛,
已于2019年4月2日正式开赛。
即刻报名,开启美味征途!
全新C3,现已开赛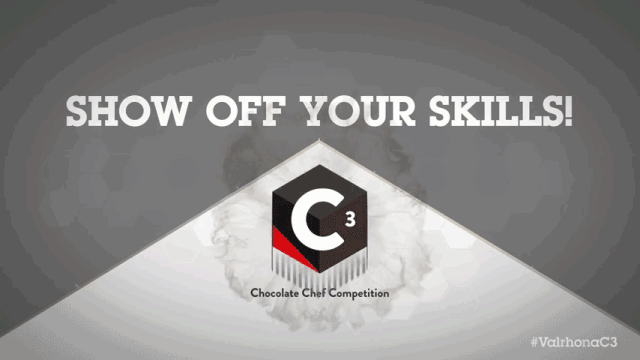 由Valrhona举办的第6界C3巧克力烘焙大师赛(2019-2020),现已开放报名。我们诚邀您参与这项面向餐饮业专业人士的国际赛事。

Valrhona is glad to organize its 6th edition of the C3 contest in 2019 and 2020.
The C3, Chocolate Chef Competition, is an international contest opened to any professional of the restauration or catering, for Valrhona customers or not.
本界大赛共设置8个赛区,分别为北美赛区、意大利赛区、法国赛区、西班牙葡萄牙赛区、亚太赛区、中东与非洲赛区、斯堪的纳维亚赛区,以及其余诸国联合赛区。
来自Valrhona学校的主厨们将考量每位候选人的表现,进而在每个赛区,选出6位候选人晋级半决赛。参赛选手需围绕选定产品百益贝BAHIBE 46%,呈上盘式甜点与花色小蛋糕的食谱各一份。
Each candidature file will be considered by Valrhona chefs from L'Ecole and 6 candidates will be qualified in each area (North America, Italy, France, Spain/Portugal, APAC, MEA, Scandinavia and Rest of the World).

Each candidate is required to conceive an original and creative plated dessert recipe, together with a recipe for dessert miniatures, based on the theme: "BAHIBE – Pure Dominican Republic", using the milk chocolate couverture from the Valrhona Grands Crus de Terroir range: BAHIBE 46%.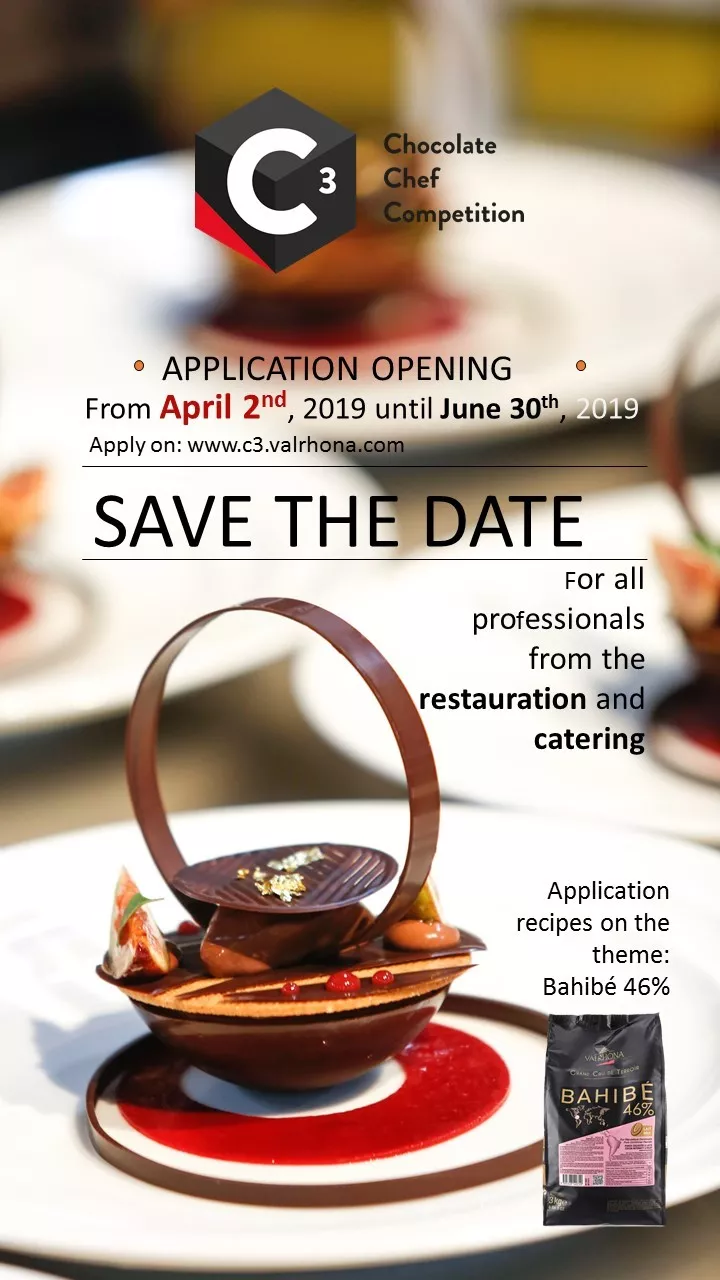 报名时间:2019年4月2日至2019年6月30日(东1区时间)
面向人群:年满21周岁的餐饮业甜品主厨
主题产品:来自多米尼加的单一原产地牛奶巧克力——百益贝BAHIBE 46%
报名方式:点击"阅读原文"或直接登陆官方报名网址:http://www.c3.valrhona.com/
如有任何问题,皆可在微信公众号后台留言,我们将第一时间为您解答!

Candidates must be more than 21 years old and working within the restauration or catering.
Registration will be open from April 2nd, 2019, until June 30th (11:59 PM GMT+1). Every registration will be made online via the C3 website (that opens on April 2nd).
An acknowledgement will be sent to each candidate in confirmation of their registration.
大赛流程简介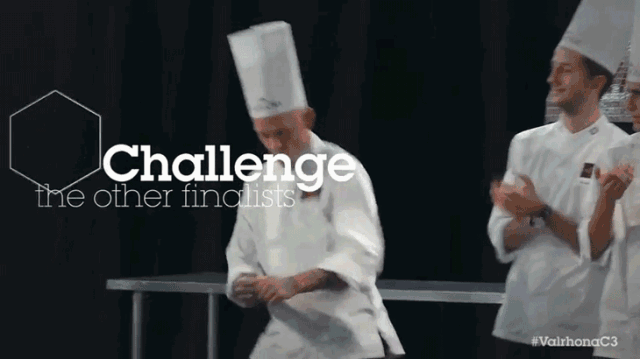 报名提交食谱
Recipe Submission
每位参赛选手需提交:原创的盘式甜点与花色小蛋糕食谱各一份。食谱中所使用的巧克力需为百益贝BAHIBE 46%——来自多米尼加的Valrhona单一原产地牛奶巧克力。
食谱中所使用的设备需为标准厨房设施。无论在视觉还是味觉的呈现上,巧克力必须是主体。参赛食谱将由Valrhona学校主理审核。
第一赛段:2019年上半年,申请者作品审核。
Each candidate must present an original creative plated dessert recipe and chocolate petits fours recipe centered around the theme: BAHIBÉ 46% highlighting the unique milk chocolate with intense cocoa notes from Dominican Republic.

This recipe must be made using standard kitchen equipment. The chocolate must be the main ingredient, both visually and in relation to taste.

Phase 1: selection based on the scrutiny of applications => 1st half of 2019

区域半决赛
Regional Semi-finals In Hong Kong
食谱被选中的参赛者,即可入围半决赛品尝环节,通过者则可晋级全球总决赛。亚太地区的半决赛将于今年九月底至十月初,在中国香港举办。
参与半决赛的选手,需依照其提交的食谱,在五小时内,围绕大赛主题,制作出12份盘式甜点与30份花色小蛋糕。Valrhona将承担参加半决赛选手的往返交通费用及比赛期间的住宿费用(1天或两天1夜)。
第二赛段:2019年下半年,半决赛品尝环节。
The candidates chosen during the written selection process will participate in a Regional Qualifying Selection Semi-Final held in Hong Kong at the end of September / beginning of October. 6 candidates will compete. Only 1 will be selected to compete in the Final.
Qualification rounds will comprise a 5-hour test for the production of a plated dessert, presented identically on 12 plates, and 30 dessert miniatures, presented on a single dish, based on the theme BAHIBE 46%.
The transportation fee and accommodation cost during the competition (1 day, or 2 days and 1 night) will be covered by Valrhona.

Phase 2: selection by tasting => 2nd half of 2019

国际决赛
地点:新加坡
International Final In Singapore
本届C3决赛将于2020年3月5日FHA期间,在新加坡举办。届时,来自八个赛区的优胜选手(名单会于2019年12月公布),将一同角逐Valrhona第6界C3全球总决赛的桂冠!
冠军得主将获得大赛奖杯以及3000欧元的奖金。详细规则及决赛主题,Valrhona将会于2020年1月告知各位参赛者,并提供更多具体信息。
第三赛段:2020年3月5日,新加坡总决赛。
The 8 finalists will be determined on the basis of these selections (announcement of finalists in December 2019). The finalists from each zone will be invited to the Final, which will be held in Singapore on 5th March 2020, during the FHA fair (3rd – 6th March 2020).
Winners of the selection tests by tasting will receive a trophy and a sum of money, in the form of a cheque for 3,000 euros.
The specific regulations and theme for the final will be sent to each of the participants in January 2020, providing more information about the organization of the competition and other practical information.
Phase 3: competition final in Singapore on 5th March 2020